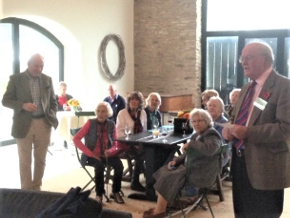 Drinks Party at Little Dartmouth Barn
.
The Society held a very successful lunchtime party for 55 members and friends on 4th November in the beautiful barn at Little Dartmouth Farm. In spite of a misty, grey, rainy day, members were cheered by roaring log fires and delicious canapes provided by David and Trudy Rothwell. Chairman Robert Brooke (right) is seen giving a brief update on the Society's current activities, notably the Fish Hoek development and, of course, Dartmouth's ongoing Health and Wellbeing discussions. Treasurer Jill Rowe managed the raffle and the very hard-working organiser of the party, Events Secretary Liane Baldock, was thanked and presented with a bouquet. At the request of our hosts, Sally and Edward Benthall, a donation will be made to LandWorks, in Dartington, an independent charity providing a supported route back into employment and the community for those in prison or at risk of going into prison.
The Dartmouth and Kingswear Society committee meets on a regular monthly basis. The next social event will be the Winter Market Day Lunch at Dart Marina Hotel on 8th February 2019.