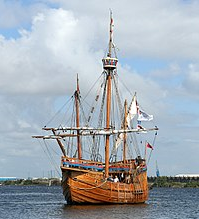 Upcoming Members Events
The next event in our Calendar is the Winter Market Day Lunch at the Dart Marina Hotel on Friday 21st February, 12 noon for 12.30pm. Details and booking form have been circulated to members
About a month later, we shall hold our Annual General Meeting, in the Flavel Auditorium at 5pm on 24th March. The business of the meeting will be followed by a talk by Stevie Rogers of Dartmouth Green Partnerships.
Towards the end of the summer, our Summer Party, on Wednesday, 2nd September, will be held on the the vessel "Matthew" (pictured right), moored.on the town pontoon. This is part of he Mayflower 400 celebratiion.
Then, on Tuesday, 13th October, in the Flavel Auditorium, Captain Roger Readwin of BRNC will talk to us about the work of the college.
For full details see our Events Calendar page.